Poetry Porch: Guest Artist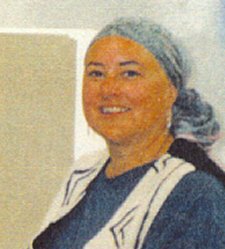 ---
About Allegra Printz
---
Allegra Printz grew up in Detroit, Michigan, attended Wayne State University (Monteith College) briefly, and graduated from the Boston Museum School of Fine Arts with a painting major in 1973. She was awarded a Traveling Fellowship in the Fifth Year Honors Program in 1974. She lived year-round in Provincetown, Massachusetts, for ten years, owning and operating the East End Gallery from 1976 to 1981. She then relocated to the San Francisco Bay area where she has been working for over twenty years, inspired by the public parks and undeveloped coastline for her landscapes, which are often painted in series. Her media concentrations are oil, pastels, and mixed media.
Her work is in many private collections throughout the United States, as well as in Canada, The Netherlands, and China. She has exhibited at the Pro Arts East Bay Open Studios, the American Institute of Architects in Oakland, and the Oakland Museum Collector's Gallery. Two of her pieces have been purchased by the Alameda County Art Commission and currently hang in Highland Hospital's Critical Care Unit in Oakland. She has shown her Urban/Industrial drawings at San Francisco's J. J. Brookings Gallery, and recently participated in a juried group show at the Marin Cancer Center's Atrium Gallery.

Images of Printz's paintings can be viewed online and are available in book form for purchase: Bay Area Landscapes: Paintings and Pastels by Allegra Printz.

Click here for a list of Printz's paintings on The Poetry Porch. For further information, contact Printz via email.

---

Printz's fully illustrated 78 card Wagner's Ring Tarot deck, adapting the early twentieth century art of Arthur Rackham, with accompanying 200 page book, was published by Shiffer Books in 2015 and voted "Best Visionary Tarot 2016." For more information, reviews, and sample images, see Aeclectic.net.




Printz as Valkerie at the deck launch, above.

---





Return to the Poetry Porch contents page.

Send comments to Editor, Poetry Porch Mail.